Milton Conservative
re-posted a stunning graph showing a gas use crash in the US. This should result in lower prices at the pump. There's more. The cost to rent a freighter
is near zero
because world-wide less stuff is on order. These numbers seem to be ahead of the news cycle.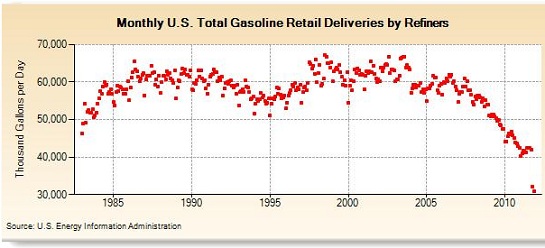 "The huge dropoff in gasoline and petroleum usage in the US, coupled with falling shipping rates, a drop in Japanese Exports Three Consecutive Months, and a European Recession poised to get much worse, makes a strong case that a collapse in global trade is underway."
(Paragraph lifted from
Shedlock's Global Economic Analysis.
) Additional graphs at that site show petroleum is moving down in step with gasoline and this is a robust result, independent of which quarter of the year we are in. (Gasoline is one subset of petroleum products that include diesel, asphalt, aviation gas, kerosene, heating oil.)
A more striking version of the first chart,
different source
: