Americans give new presidents a time of grace and give returning ones a chance to redeem themselves. Rasumussen's famous poll of voters strongly for and against Obama show that Obama's first time up, supporters believed he would save America and his opponents put on hold all strong objections. (As the left end of the chart shows). The second time up is a surprise. His strong supporters are not fired up after the election but, amazingly, the people most against him are giving another chance to prove himself. On the chart, the green line stayed flat and the red line dove suddenly after November 4th. Are Americans drinking the Kool Aid or are they just rose-glazed optimists?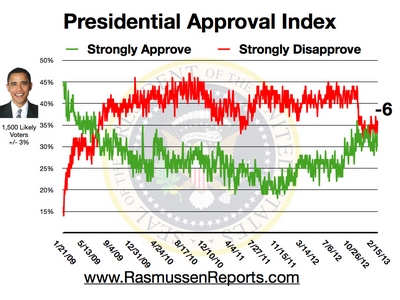 February 15 2013
Rasmussen's chart is
updated daily at this link.
I used to feel that any day with a net negative 18 rating was a good day.
That shows how out of step I am with the majority opinion of our neighbours to the south
and with
my fellow Canadians
.
Browse the Blog
Updated July 2013. It's almost beyond belief how his approval was doctored to peak for a few weeks around the election. News out since about suppression of the Tea Party via the White House through the IRS adds to the impression.