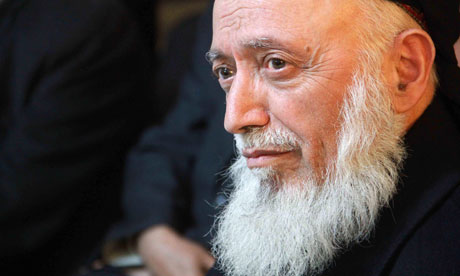 Burhanuddin Rabbani.
Failed attacks on the US embassy and base in Kabul and the turban bomb that killed a Taliban negotiator were militarily insignificant attacks but successfully captured media attention,
according to Strategy Page.
Fifteen died but eleven of those were the terrorists themselves! The dead Taliban peace negotiator, Rabbani, was a respected, not a despised man. Equipment from Pakistan was used and the two captured terrorists revealed they were connected to the Haqqani group which shelters in North Waziristan and cooperates with Pakistani intelligence, the ISI.
Afghan and American intelligence believe the attack was carried out by Pakistani intelligence (ISI) to cripple peace talks with the Taliban. (See link added at bottom of page) ISI apparently used Haqqani to disrupt peace talks between the Taliban and the Afghan government. These peace efforts have been chipping away at the Taliban over the years, enticing tribal factions to drop (or greatly reduce) support for the Taliban. ISI cannot tolerate this.
Many senior officials in the Pakistani government see peace and prosperity in Afghanistan as a plot by India to surround Pakistan. Afghanistan has accepted Indian economic aid, and been generally friendly with India. This angers the Pakistanis, who feel they must respond, covertly, to this Indian gambit. What India is trying to do is insure that Afghanistan does not again become a sanctuary for Islamic terrorists (many of whom consider largely Hindu India a prime target.)
Karzai and Singh
An article on India's
soft power role in Afghanistan
, a role that will become much more important when US troops are removed. "India has no exit strategy from Afghanistan". India built the new parliament buildings, the Salma dam, a 218 km road and is the main bidder for new iron mines.
Update:
Mullen of the Joint Chief of Staffs expressly accuses the ISI for the US Embassy attack
.
Added: Most suicide bomb attacks are now
taking place in Pakistan
!
Added:
Valuable article from 'Walter Russell Meade'
who has met retired ISI officials.
"It is impossible to avoid the conclusion that a state of war exists between an agency of the government of Pakistan and the United States of America. ... it would be unwise to underestimate the degree to which many Pakistanis think they have the US in a trap, how deeply a culture of brinkmanship has embedded itself into Pakistani security thinking, and how much contempt many Pakistani decision-makers feel for many of their US counterparts".
Added:
The attack on the U.S. Embassy last week and Rabbani's assassination on Tuesday comes on the heels of news that the U.S. and its international partners have backed an Afghan plan to
open a political office
for the Taliban in the Gulf state of Qatar. It is also notable that within days of these events, the embassy of Saudia Arabia, a state which until recently was viewed as a potentially heavyweight broker in the negotiation process, has decided to
pull up stakes
and evacuate its staff from Kabul. [The Qatar office is a US solution, not well-received by others].